"Should I use a setting powder after my tan," you ask? Here's our take:
What is a setting powder anyway?
Tan setting powders are specially formulated powders designed to be used after a spray tan to help set the colour and prevent it from transferring onto clothing or other surfaces. They typically contain ingredients such as talc, cornstarch, and mica, which help to absorb excess moisture and oil on the skin and give a smooth, matte finish.
These days we recommend avoiding talc-based products1. This makes it important to check the formula of the setting powder you are using! As an example, our Azure Tan Drying Powder is made with Kaolin, Moroccan Lava Clay & Mica. These ingredients are noncomedogenic and aren't on the "naughty" list (unlike talc).
After a spray tan, it's important to avoid getting your skin wet or sweating for at least 8 hours to allow the colour to fully develop. However, even after the recommended development time, the colour can still be prone to rubbing off or transferring onto clothing or furniture. Using a tan setting powder can help to minimise this risk by creating a protective barrier over the skin.
In addition to helping to set the colour and prevent transfer, tan setting powders can also help to reduce any shine or stickiness that may occur after a spray tan. This can be especially beneficial for those with oily or combination skin, as the powder acts as a mattifying agent.
It's important to note that not all powders are suitable for use after a spray tan. Regular face powders or setting powders may contain ingredients that can react with the DHA (dihydroxyacetone) in the spray tan solution and cause it to turn orange or uneven. To ensure the best results, it's recommended to use a powder specifically formulated for use after a spray tan. We don't recommend slathering-up with cornstarch alone. We like Glowdry (a simple, non-nonsense formula with 4 ingredients) and our #1 pick, Azure Tan Drying Powder (due to its added skincare benefits).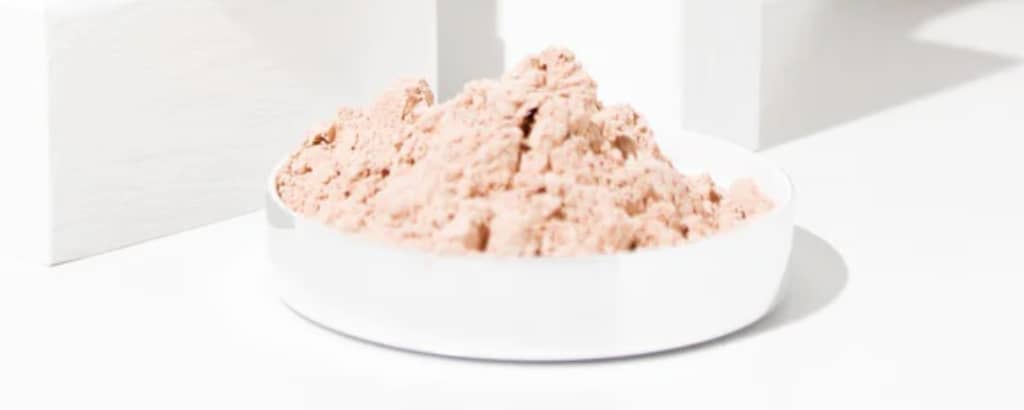 How to use a setting powder with your sunless clients?
It's worth noting most modern pro-mist solutions contain a drying agent such as alcohol. They will all dry on their own… eventually. So naturally, setting powder should be seen as a luxury rather than a necessity. Some salons charge a little extra for this step (after all, extra product is being used). You may like to consider adding a "Deluxe Tan" to your menu or simply incorporating setting powder in your pricing.
If you are a professional spray tanner, here are some general steps to follow when using a spray tan setting powder with your clients:
After completing the spray tan application, ensure you are happy with the application before applying the setting powder.
Shake a small amount of setting powder into the lid to ensure an even application.
Using a large, fluffy brush (we like the Tanbuki), lightly dust the powder over the entire body, focusing on areas that are prone to creasing or rubbing (inner elbows, back of knees and underarms).
After applying the powder, gently buff any excess.
Advise your client to avoid getting their skin wet or sweating for 1-4 hours after the application to allow the color to fully develop. (Just because we've applied a setting powder doesn't mean aftercare can be neglected!)
It's important to note that the amount of powder you use may vary depending on the client's skin type and the type of spray tan solution used. With proper use of a spray tan setting powder, you can help your clients banish tackiness! When all is 'set' and done (haha) – less tackiness equals less rub off. Less rub off produces happier clients with streak-free tans. It's simply a win for business. So, to answer the original question: yes! Why would you not use a setting powder?
IARC. Agents classified by the IARC Monographs, Volumes 1-112, 2015. Available online: http://monographs.iarc.fr/ENG/Classification/ClassificationsAlphaOrder.pdf. Accessed March 3, 2023.(The International Agency for Research on Cancer lists talc containing asbestos as a human carcinogen while perineal use of talc is classified as possibly carcinogenic. Due to the nature of a setting powder being used on the entire body, we don't recommend talc-based setting powder formulas)