Refectocil Tint – Blonde (0) – Bleaching Paste for Eyebrows
$14.50
Description
RefectoCil Blonde Brow, the bleaching paste for eyebrows, allows you to lighten the eyebrows up to three shades. Please note that RefectoCil Blonde Brow can only be used with RefectoCil Oxidant 3% cream and is not designed for eyelashes.
Blonde Brow has 3 main applications:
1. To lighten treated eyebrows
With RefectoCil Blonde Brow eyebrows can be matched to the shade of dyed or bleached hair. Please note, that the eyebrows can be slightly darker than hair to accentuate the eyes.
2. To prepare eyebrows before tinting
Often the natural eyebrow colour is too dark for the desired colour. With Blonde Brow eyebrows can be lightened up before the final tinting-treatment with any RefectoCil colour. This way, also lighter shades are made possible. Please note that the application time for the following tinting process is reduced to a third.
3. To make grey, white and bristly eyebrows take on colour again
These kinds of eyebrows are often not able to take on colour-pigments or produce unpredictable results. By bleaching the untreated hair first and opening up the hair folicle, the hairs will then readily accept tint colour.
How To Use Blonde Brow:
1. PREPARE
Clean the brows using RefectoCil Micellar Eye Make-Up Remover.
Mix 2 cm of RefectoCil Blonde Brow with 20-25 drops of Oxidant Cream 3%. Use the RefectoCil brush and blend it into a creamy paste.
2. LIGHTEN
Apply the bleaching paste on the eyebrows with the brush in hair growth direction. For optimal results also brush the paste against the hair growth direction and cover the brows form all sides. Using the rubber spoolie brush the paste into the eyebrows from bottom to top. The eyebrows must be fully covers with the paste. They should appear "cloud-like".

3. CLEAN/TINT
Depending on the desired result, allow the paste to work for 5 – 20 minutes.
5 minutes = one shade lighter
12 minutes = two shades lighter
20 minutes = three shades lighter
Remove the paste with a damp cotton pad. Then clean the area with Micellar Eye Make-up Remover to ensure that the paste has been completely removes. Brush the eyebrows with the RefectoCil brush.
If eyebrows are being coloured after lightening, leave the tint on for 1/3 of the time (approx. 2-3 minutes) as the colour will take very quickly!
4. CARE
If the eyebrows have only been bleached, apply the nourishing RefectoCil Care Balm to the eyebrows as an intensive conditioning treatment. 
If the eyebrows have been tinted after bleaching, apply RefectoCil Styling Gel to the eyebrows for care and colour protection.
What Else You Should Know:
15ml, approximately 30 applications per tube
100% Vegan
Cruelty-free
Must be mixed with RefectoCil Cream Oxidant, does not work with Liquid Oxidant
Q & A
There are no questions yet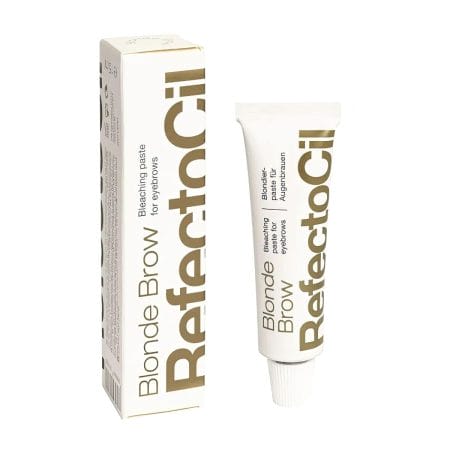 Refectocil Tint - Blonde (0) - Bleaching Paste for Eyebrows
$

14.50
In stock